And a lot of fun to provide you with them!
N°1 : Open 7 days 7 all year
To have the pleasure to see you back as often as possible so you can have a good time around a good homemade dish!
N°2 : Product quality and fast service
Quality products, it is the basis of a kitchen full of flavor and pleasure. We pay special attention to the choices of our products and our dishes.
N°3 : Total freedom in choosing one or more dishes
A wide menu of starters, main courses, desserts and wines is at your disposal so you can choose whatever you like the day of your visit.
N°4 : The Bistro menu at €14.50* or €18.50*
A quick and economical menu for our business clientele and our customers in a hurry
* (menu available only at noon – except Sundays and public holidays).
N°5: The chef's daily favorites
The best person to think of a seasonal dish and prepared with fresh produce is a chef. Isn't it? Enjoy the daily selection and love-made dishes.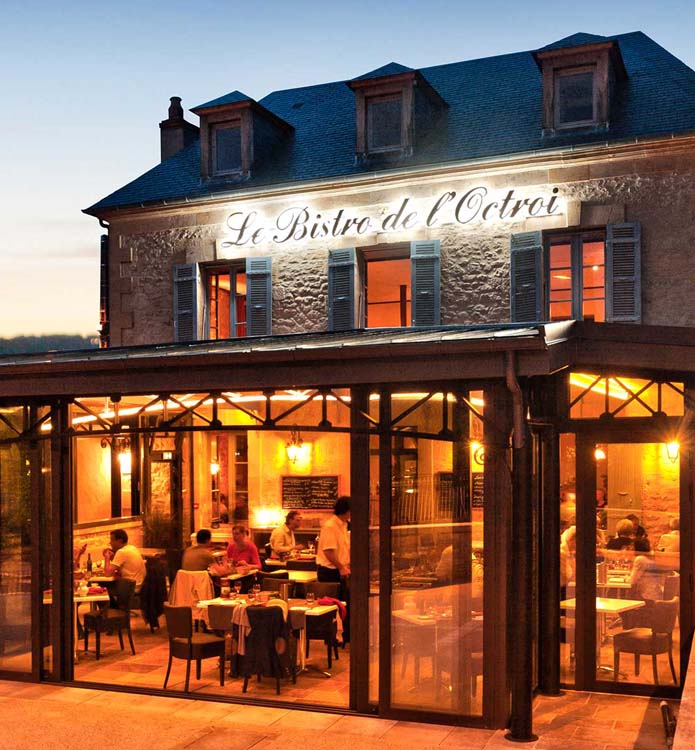 Le Bistro de l'Octroi
111, Avenue de selves
24200 SARLAT
by email: bistrodeloctroi@orange.fr
By phone: 05 53 30 83 40
Le Bistro de l'Octroi takes its name from the house of the grant, old tax due on input goods and consumer goods in the town of Sarlat.
Bistro de l'Octroi team is committed to your service to help you discover including many traditional delights and Périgourdins.